The 2016 Assam floods were caused by heavy rains in July 2016. The flooding affected 1.8 million people. As of 1 August 2016, 28 people had died, according to a report of the State Disaster Management Authority. The state of Assam faced around 60% more rains than it received in July. The rainfall resulted in flooding of various rivers. Bramahaputra river had crossed its danger mark level in the seven districts of Lakhimpur, Dhemaji, Nagaon, Jorhat, Golaghat, Morigaon and Biswanath
| | |
| --- | --- |
| Details | Affected |
| Number of the people affected | 1.8 million people |
| Number of people dead | 28 people |
| Number of Districts affected | 19 districts |
| Farming land affected | 2 Lakh hectares |
| Crop loss | 21-30 percent Assam tea |
An assessment team from IRCS comprising of following members visited Assam : Dr.Kumar V.L.S, NDRT/RDRT/NDWRT, Indian Red Cross society, Karnataka state branch, Mr.Bal Bujal, International Committee of Red Cross, Mr. Laba Sarma, DM supervisor, IRCS Assam State branch, Mr. Raj Sarma, Program Manager, IRCS Assam state branch
Team had meeting and discussion with the IRCS Assam state branch chairperson, Mrs.Renuka Devi Barakataki on 9th August 2016. Based on the directions of the chairperson, team visited following Districts.
10th August 2016- MARIGOAN district and Bhruagaon revenue circle
11th August 2016- DHUBRI District , Bilasipada revenue circle


Meeting with the IRCS Assam State branch Chairperson Smt. Renuka Devi Barkataki



Discussion with the affected community and village panchyath members at Katahldi village, Bilasipada Revenue circle
As part of Assam flood relief DREF operation relief distribution was done among 500 families at Bhuragaon subdivision. The visiting IRCS team was assisted by the District branch members on 23rd August 2016 in the distribution. The first water purification unit was installed in Bhuragaon on August 24. Relief distribution was carried out at Morigaon District among 300 Families.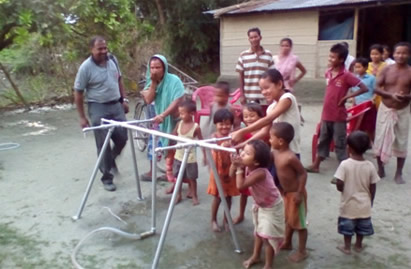 On 26.08.2016, a team of IRCS volunteers including Mr.Kamrul, NDWRT member from West Bengal State Branch, Mr. Benjamin, ODK trained volunteer from Tamil Nadu State Branch and Mr.Mirdul, a first medical responder from IRCS Assam State Branch installed Water Purification Unit I (AP CL 700) at Hindujapuri, Bhuragaon Sub Division, Morigaon District. In addition to this a volunteer was nominated to operate, maintain, dismantle and dispatch WPU by the IRCS Bhuragaon Sub Division Office Bearers / Community Leader. The beneficiaries details are follows hereunder:-
Sl. No.

Particulars
(WPU No.)

Date

Place

Water distributed (Litrs.)

No of Family benefited

No of beneficiary

1

AP- 700 WPU- 1

26-08-16

Hindu Japori Village, Bhuragaon Sub- Division, Morigaon District

1100

20

50

2

27-08-16

Do

5000

70

310

3

28-08-16

Do

9000

130

576

4

29-08-16

Do

8250

98

540

5

30-08-16

Do

8750

110

573

6

31-08-16

Do

11000

134

680

7

01-09-16

Do

7000

97

470

8

02-09-16

Do

8200

107

545

9

AP- 700 WPU- 2

31-08-16

Kathaldi Part III village, Bilasipara, Dhubri district

2400

30

160

10

01-09-16

Do

5500

65

370

11

02-09-16

Do

7200

86

470
Subsequently, ODK team of Mr. Uma, RDRT member from IFRC, Mr.M.Karnan, ODK and Mr.Rituraj, FMR, IRCS State Branch conducted ODK training for IRCS Bilashipara Sub Division Office bearers and FMR Volunteers. IRCS Bilashipara expressed its consent to implement ODK as pilot in their district under DREF Operation. Beneficiary's cards were printed and distributed to IRCS Bilashipara Sub Division for distributing the cards to the Beneficiaries.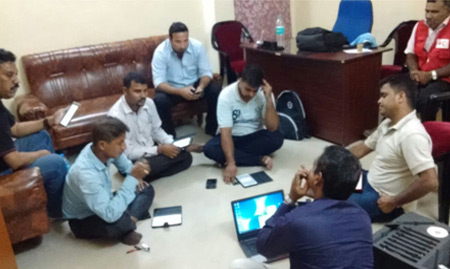 The deployed team members visited IRCS Warehouse on 27.08.206 located at Noonmati and a performance check test was conducted on second and third water purification units before dispatch.

Community Consultation was carried with Community Members along with IRCS Bilasipara Sub Divisional Branch. On 31.08.2016, second WPU was installed at Kathaldi.

For the first time in India relief was distributed using the technology of ODK and Mega V in the flood affected region of Dhemaji District in Assam state. The team also distributed 500 family packs in Lakhimpur District.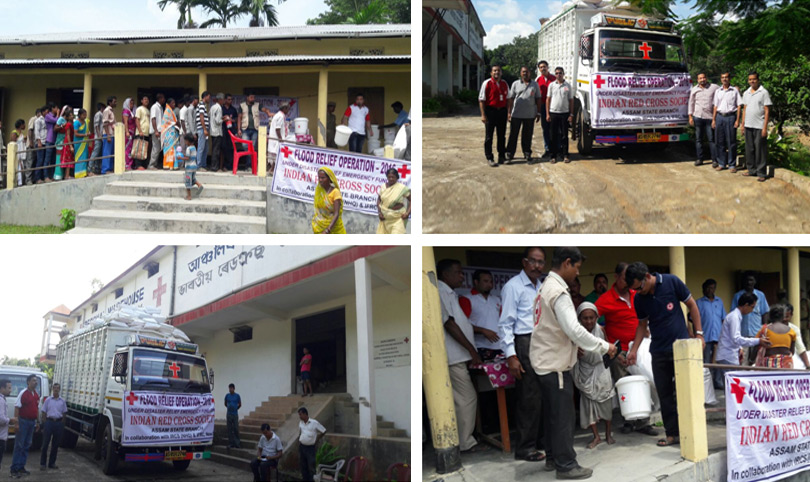 Details of relief Distribution under DREF
* Materials Distributed-
Sl. No.

Date

District

Place of Distribution

No of Kits

Distribution Type

23/08/2016

Morigaon

Bhuragaon

500

Manual

24/08/2016

Sahitya Sabha Bhavan, Morigaon

300

Manual

03/09/2016

Dhemaji

DC's Office Campus, Dhemaji

250

ODK- 100,
Manual- 150

04/09/2016

DC's Office Campus, Dhemaji

250

ODK- 100,
Manual- 150

05/09/2016

Lakhimpur

Panigaon Samabai Samittee Office Campus

200

Manual

06/09/2016

Lakhimpur

Naeboisa Revenue Circle

100

ODK

06/09/2016

Bihpuria Revenue Circle

100

Manual

07/09/2016

Dhakumakhana Sub Division

300

Manual

Total

2000
The cost of above mentioned relief material is INR 1.75 crores.
First Time Use of ODK
This was the first time when Open Data Kit (ODK) & Mega 5 have been used in data management of beneficiaries and relief distribution. This innovative solution has been developed using High Tech digital technology, which uses digital bar code scanning (Mega V) that could be used to quickly scan and verify the beneficiary card, rather than manually reviewing registration documents. This approach, tested by other National Societies in different relief operations, helps reduce the waiting time of the beneficiary to get their card validated quickly, increases the security, transparency and dignity of the distribution as well as the beneficiary satisfaction. This also helps in assessments, data analysis and documentation.