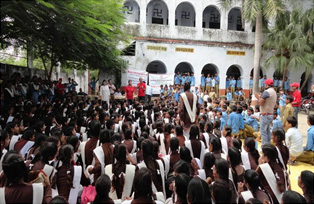 Due to geographical factors historically months of summer have been difficult ones in most parts of the Indian sub-continent. This season also affects our flora & fauna.
There has been erosion in the continuation of traditional methods of saving oneself from the impact of, blazing sun and excessive humidity. Also, global warming has been proved a reality. In the year 2015 heat wave caused 2500 deaths sending an alarm signal on this silent killer. This year too a number of states were warned by the Indian Meteorological Department, NDMA and Health Sector of the impending danger. The temperatures were likely to remain high in several states during peak summers.
This year the heat wave affected several districts of Odisha, Andhra Pradesh, Bihar, Madhya Pradesh, Chhatisgarh, Jaharkhand, West Bengal, UP, Delhi, Rajasthan, Gujarat, Maharastra and other states.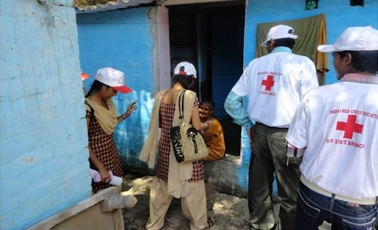 The IRCH Nhq communicated the looming threat amongst all the vulnerable States and UTs. Several measures were suggested to minimize the impact of heat wave.
IRCS UP State Branch, under Disaster Preparedness Climate Change Activities, does awareness activities in school/colleges & in community through district branches on Heat Wave, Cold Wave & Global Warming. This year awareness & education activities on heat wave have been conducted in Sitapur, Lakhimpur, Shahjahanpur, Varanasi, Amethi, Mujaffarnagar districts & by UP state Branch in Lucknow.
In West Bengal nodal officers sensitized the masses on heat wave. South 24 Parganas, Purba Medinipur, North 24 Parganas, Howrah, Hoogly, Birbhum, Burdwan and Nadia district branches have reported activities in this connection. Free water supply, information sharing at public places, schools, hospitals and railway stations has been done.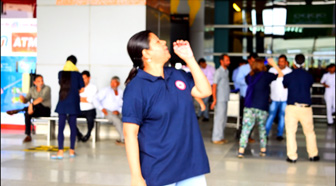 In Delhi a group of 15 Red Cross volunteers was trained in flash mob demonstrations on 5-9 June. These youth volunteers participated in flash mob demonstrations to create awareness in public places. These volunteers held several flash mob sessions in Delhi's Rajeev Chowk, IGI Airport, Jantar Mantar & Sarojini Nagar Market. Delhi's Airport Authority invited the Red Cross to hold flash mobs in four different parts of the international and national airport to inform visitors and workers how to deal with heatwave temperatures. The messages were simple: drink more water, keep your head covered, eat before you go out, and "rest, rest, rest" between noon and three – the hottest hours of the day. The messages were well received and often repeated verbatim. Perhaps the most crowded was the pilot flash mob at Sarojini Nagar market in south Delhi where street vendors, shoppers, shop owners and passers-by joined the volunteers and appreciated the efforts of the IRCS in creating heat wave awareness.