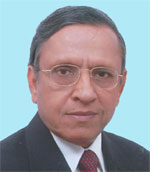 This year, as the Red Cross Red Crescent world celebrates the 50th anniversary of the Fundamental principles with the theme, "Power of Humanity : The Fundamental Principles in Action", I invites all Red Crossers to celebrate the World Red Cross Day by strengthening the usage, awareness and application of our basic guiding fundamental principles, which are the focus of identity and purpose of our movement. As we all know, the seven fundamental principles have immensely contributed in ensuring that help reaches all, without prejudice of any sort.
In India, the movement structure percolates down from the National Headquarters to the State, UT and the district branches. Though all the branches and National Headquarters are tied together with a common thread of the IRCS Act of 1920 as amended from time to time and the Uniform Rules that are applicable to all State/ Union territory and district branches, yet the working remains largely federal, with the State & UT branches having administrative and financial independence, to exercise their choice of humanitarian activities conducted as well as for fund generation and its utilization, as mandated in IRCS Act. It is therefore vital that the Indian Red Cross engages in activities having sustained impact and that the fundamental principles continue to guide all activities undertaken by the branches of the society.
One of the main activities and thrust area is training of lay people, students and professionals in First Aid (FA). The National headquarters (NHQ) has developed the "Evidence based Indian First Aid Guidelines" and will shortly be revising the existing First Aid Manual. This will benefit large numbers of people who undergo FA trainings. The cost of these trainings have been purposefully kept low by the National Council of the St. John Ambulance and the Managing Body of the IRCS (NHQ), so that maximum number of people from all walks of life can be benefited.
These nation wide trainings bring several thousands of people in contact with us. Let's ordain them in Fundamental Principles as well so that they execute their activities with full Red Cross spirit. Today it is essential to keep reminding our beneficiaries and partners about the Principles that we stand for. I encourage you all to engage in community activities that reflect the spirit of the fundamental principles and help in infusing vigor in understanding and using them. It is my strong belief that the strength of these principles shall make our work shine through and bring lasting relief to vulnerable and suffering people.

Dr S P Agarwal
Secretary General,
Indian Red Cross Society