Mukhtar Abbas Naqvi, Union Minister of Minority Affairs
( Govt. of India ) donated blood at Indian Red Cross Society, NHQ Delhi on the occassion of World Blood Donor Day, 14 June, 2020

"Blood donation will cost you nothing, but it will save life".. Every healthy person should donate blood so that he/she can help in saving life of a needy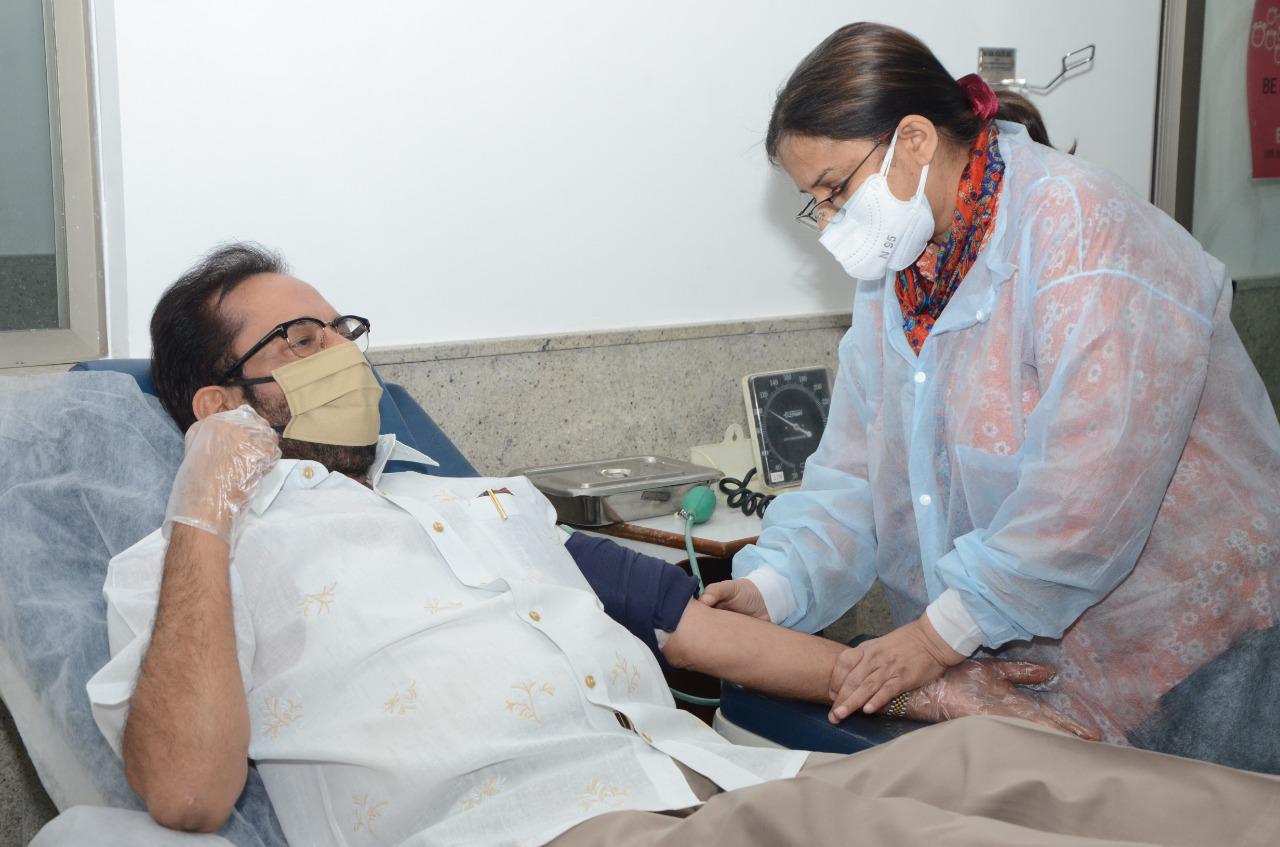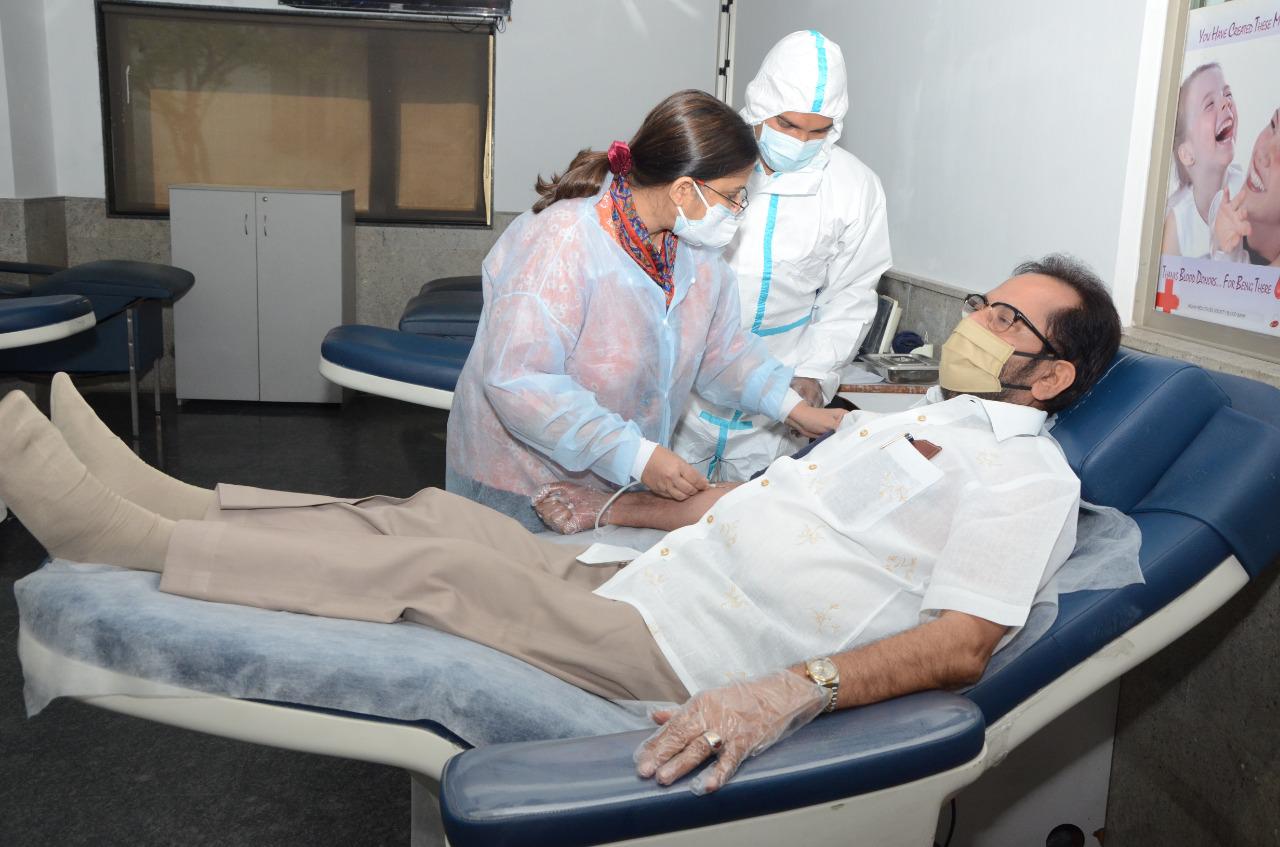 Our Donors, Our Pride
Meet Mr. Jenish Rabadia!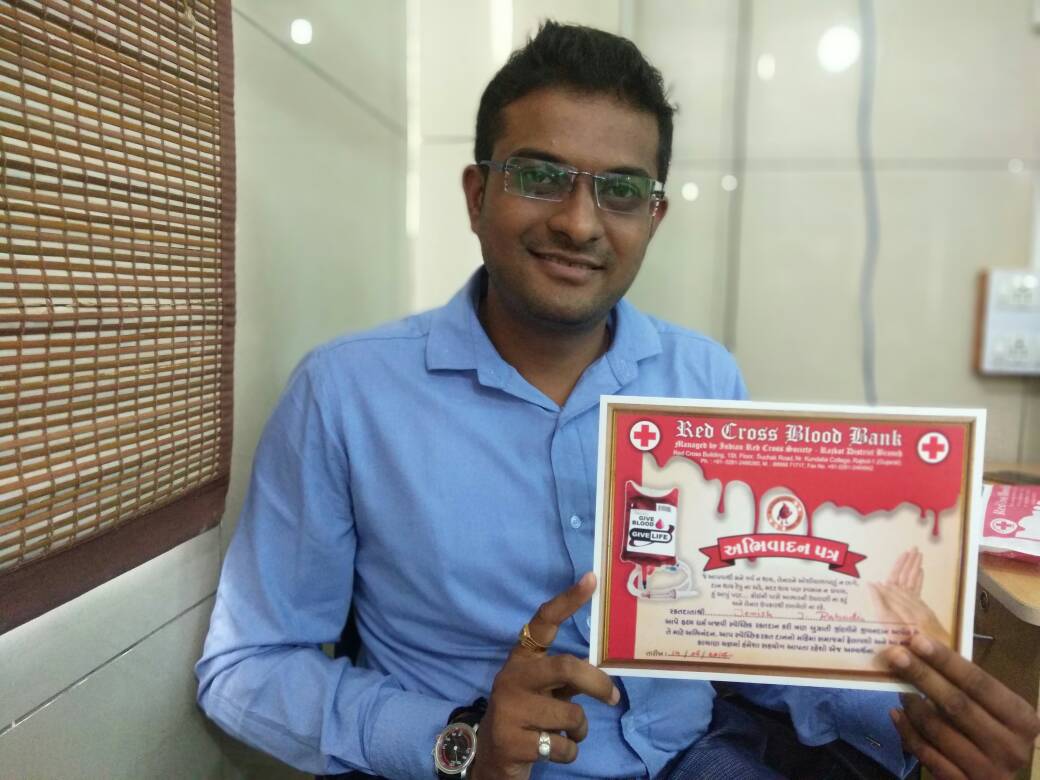 A determined achiever, Jenish is an accomplished Chartered Accountant at the young age of 27. What's more- he also runs his own company, J Jitendra and Co. However, a truck load of responsibility does not stop him from doing his bit for those in need.
Jenish started donating blood on his 18th birthday & hasn't looked back since then.Ever since, the Good Samaritan has extended all possible support in organizing several blood donation camps & recently completed his 28th donation! 
Jinesh believes that a person's financial situation or standing in life does not have a bearing on his decision to donate blood. " One doesn't need money or lots of time to donate blood. This noble act only requires us to have a big heart and spare 15-20 minutes. We all can do it."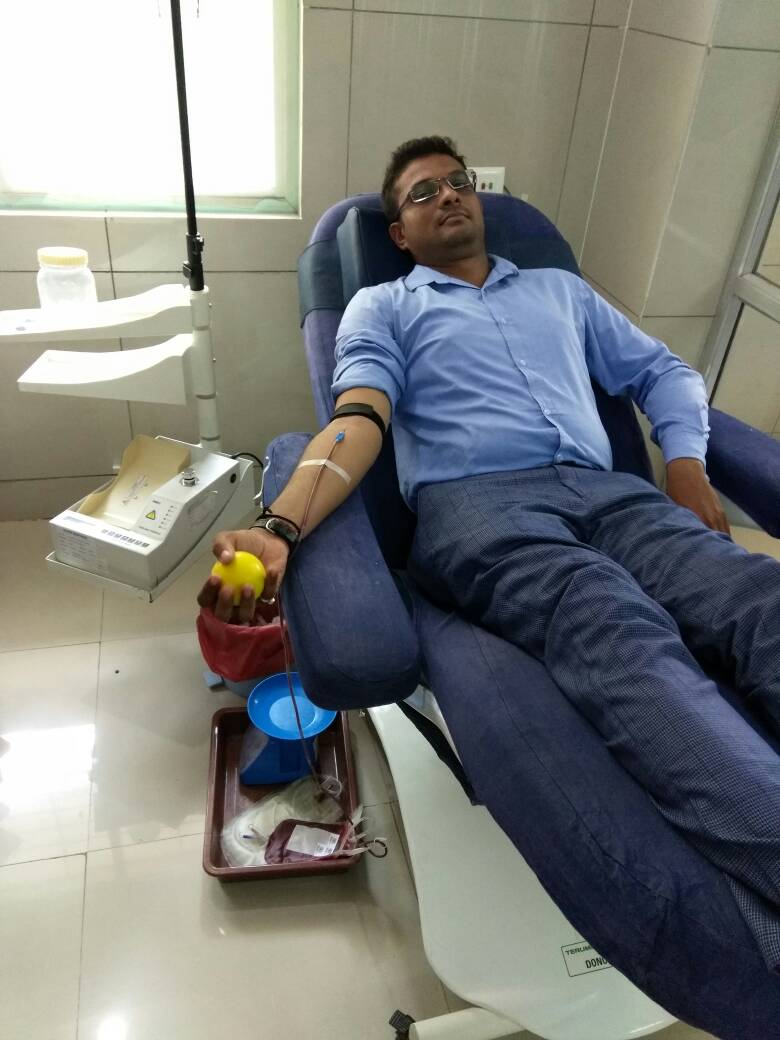 With each passing day, Jinesh's association with IRCS Rajkot, Gujarat is  growing from strength to strength. "Whatever the situation, the entire team of Indian Red Cross is always ready to serve the needy. They have done tremendous work even during an unimaginable situation like COVID. I feel proud to be associated with them & doing my bit," he says.
During the COVID lockdown period, Jenish & his friends have extended massive support to IRCS Rajkot in organizing blood donation camps. "The Rajkot team has gone all out to make it easier for people to donate blood during this crisis. Even when one person wanted to donate, their team did all they could to assist him/her. Their efforts are commendable and have inspired several people to step forward during this crisis," said Jenish.
We are very proud and grateful to people like Jenish, who through their invaluable contribution to humanity, strengthen the battle against what we are up against. Every small effort counts & it is only solidarity that will enable us to win this war. 
Why is it necessary to always maintain a steady supply of safe and quality-assured blood & blood products? Why are regular blood donations important?
Learn from the infographic below: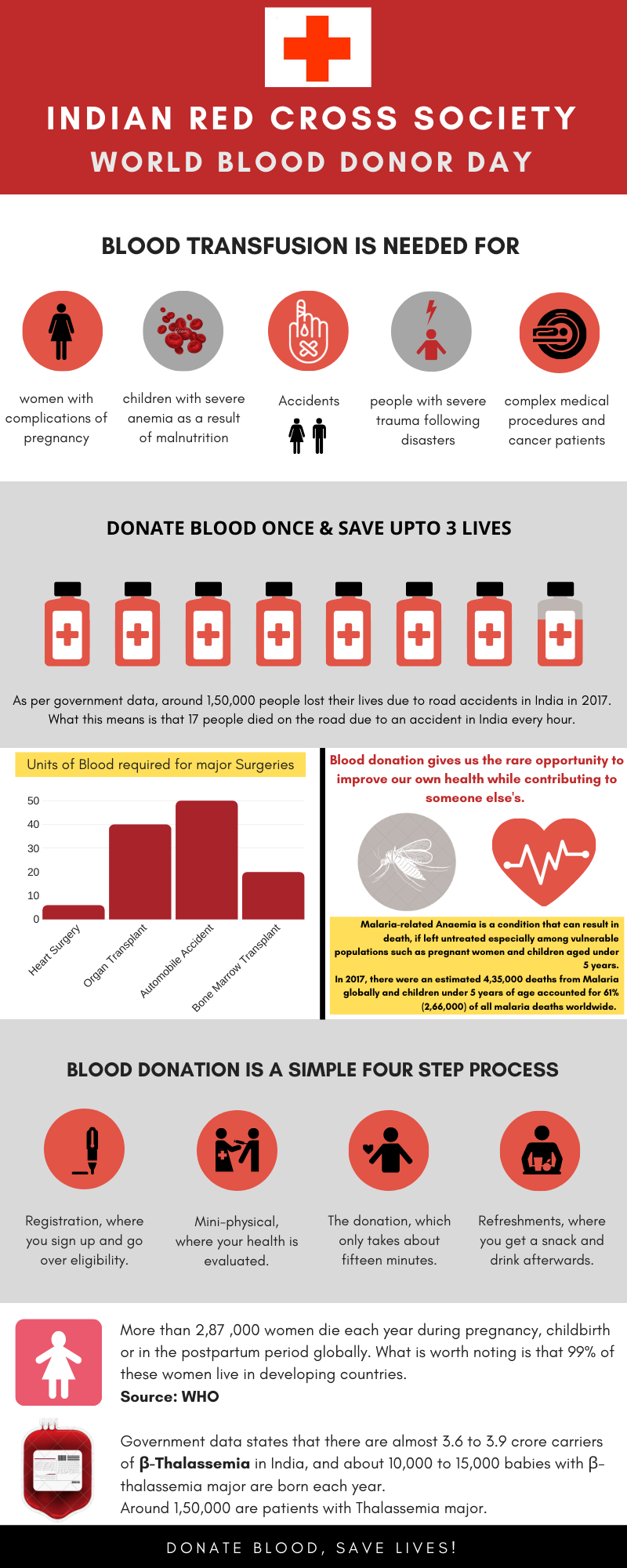 Your selfless contribution has helped in saving precious lives. Today is a day to celebrate your service to humanity. Hear it from the people whose lives have been affected, thanks to you!
There is no GREATER LOVE! Thank you Blood Donors!
Your contribution to #humanity is invaluable.
#donateblood & save precious lives.

"Every blood donor who has donated blood to me is a personal guardian angle. Coming out to donate during #COVID19 is a laudable act. Thank you for thinking of patients like me," says Ms Swati Tuteja, a #Thalassemia patient.


https://vimeo.com/428957257
Regular blood donations help ensure the needy have unhindered access to affordable, safe & quality-assured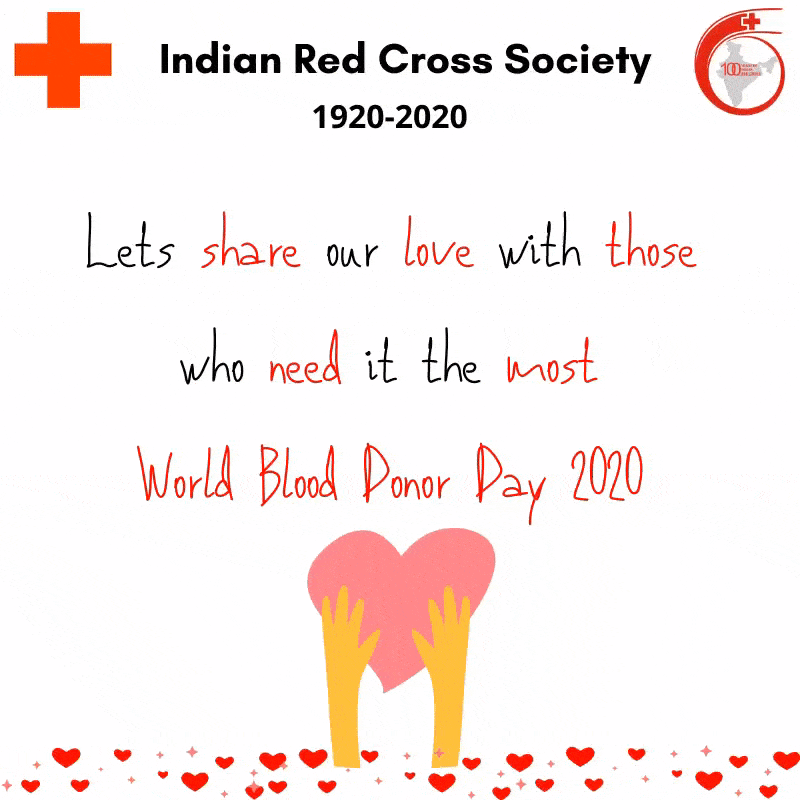 blood & blood products.
The covid19 crisis has led to a drop in the number of voluntary blood donations. The need for safe blood, however, remains.
Every type of blood is needed to meet patient needs. Some, such as patients of Thalassemia, cancer & those dependent on blood transfusion need blood to SURVIVE. This is the time we need you more than ever.
Contact our 24/7 Control Room on 011-23359379, 9319982104 or 9319982105 to donate blood and save lives. 
We urge you to do your bit in the fight against COVID.

Your Safety Is Our Priority
IRCS NHQ Blood Bank is taking all precautionary measures to ensure the safety of its staff, donors and patients. Our premises as well as the mobile blood collection units are disinfected regularly & social distancing is maintained at all times. We accept potential donors only after thorough assessment of all prescribed norms.
1. Development of new red blood cells
Within the first 48 hours of blood donation, the donor's body starts replenishing the lost red blood cells. The replenishment process helps in staying healthy and productive at work.
2. Reducing risk of heart disease
As per several studies and reports, when there is a rise in the iron level in blood, it raises the chances of heart diseases. People should donate blood from time to time in order to reduce the iron level in the blood.
3. Burns calories
Donating blood can burn approximately 650 calories for each pint that is like 450 ml of blood.
4. Free blood test
On donating blood, the donor receives a free mini health screening and blood tests.
5. How often can one donate blood?
The minimum time advised between two donations is 3 months. This gap helps blood regain the normal haemoglobin count.
Who can donate blood
The age of the donor must be above 18 years and below 60 years of age. He/she must have a haemoglobin count that is not less than 12.5 g/dl. The Weigh should not less than 45 kgs. One should have a normal body temperature at the time of donation.
You should always drink lots of water before the donation. Also, keep in mind that you should take a well-balanced meal prior to and after donating blood. This will keep you healthy and fit.