We at the Indian Red Cross Society's National Headquarters started this year with New Year greetings and sharing of the aspirations, or resolutions, for the year 2019. This message for the state branches and the wider Red Cross family is an extension of that conversation.
I thank each one of you, especially thousands of volunteers, for all the work you do every day to achieve the mandate of the Red Cross Movement.
​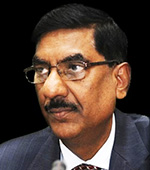 ​ Last year, the country witnessed several large-scale disasters and as the largest humanitarian organisation in the world we responded to all of them. The Kerala Floods, Gaja Cyclone, Titli Cyclone and Phethai Cyclone being some of the significant ones. This is in addition to various programmes we run through blood bank services, promotion of healthy living, volunteerism and capacity building for First Aid.
I wish to particularly underline the inspirational work Red Cross volunteers do around the clock, extending service and support to those in need. Their commitment truly inspires us as it encapsulates the spirit of service we should inculcate as a society.
The year 2019 is important in many ways, as we move towards our centenary in 2020. It is an opportunity for all of us to re-engage with communities, partners and citizens to present the Indian Red Cross Society as a dynamic organisation.
Let us challenge ourselves to do more, faster and better in all areas of our personal and organisational work.
Once again, wish you and your loved ones a very Happy New Year!