IRCS COVID19 Bulletin

Indian Red Cross Society would welcome partnerships and donation of items needed for the protection of volunteers and vulnerable people as well as for the medical fraternity engaged in treatment and medication of patients.
'Government of India has taken extensive steps to manage COVID19. To supplement the efforts of the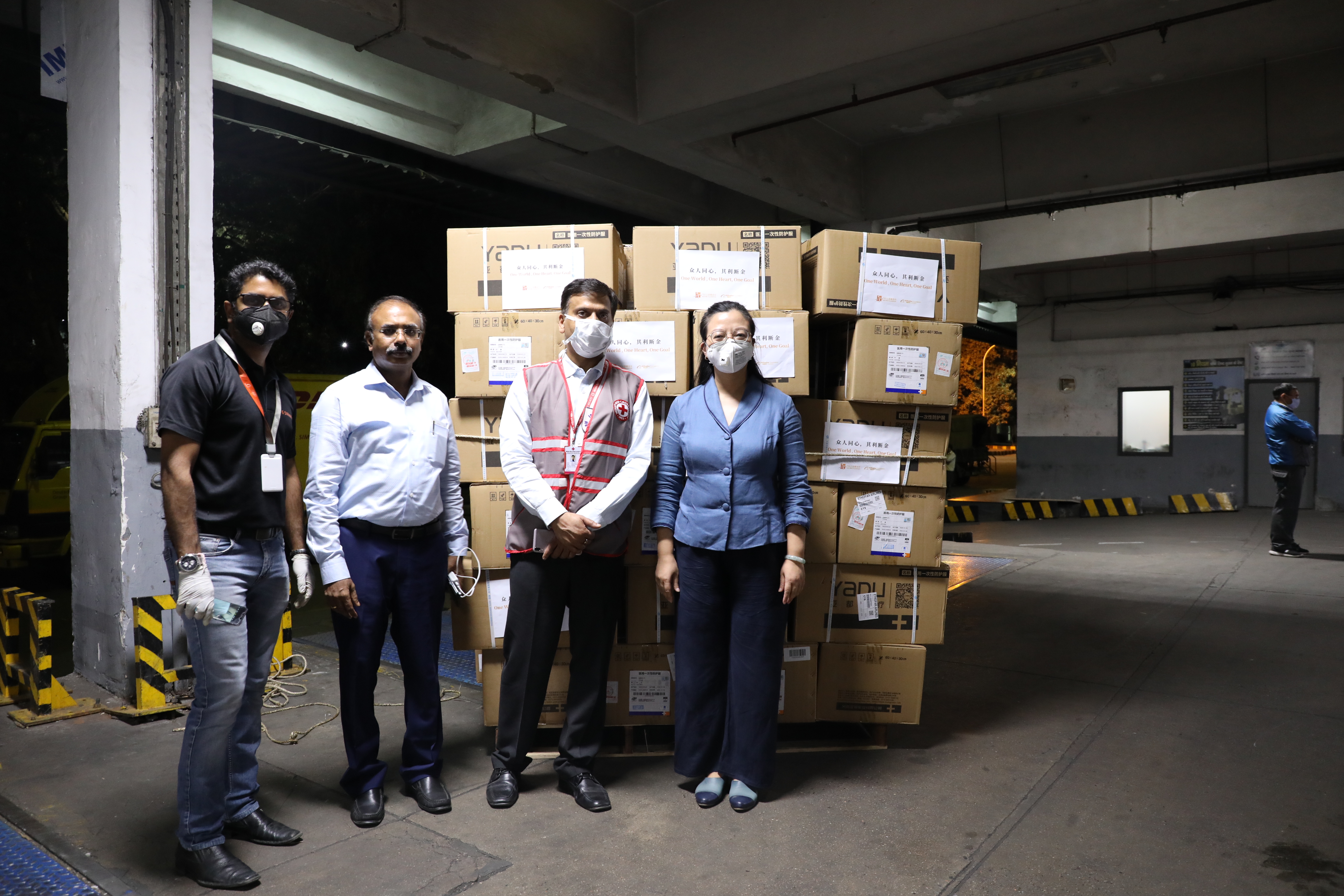 government, Indian Red Cross has mobilized first tranche of essential supplies consisting of 10000 face masks, 10000 protective body suits, 20 Ventilators and 50 Thermal guns.
This consignment, which has been received yesterday has been donated by Jack Ma and Alibaba Foundation. Indian Red Cross appreciates their magnanimity at this difficult juncture'
Shri R. K. Jain (IAS Retd), Secretary General, Indian Red Cross Society.
Some Useful Resources and Links: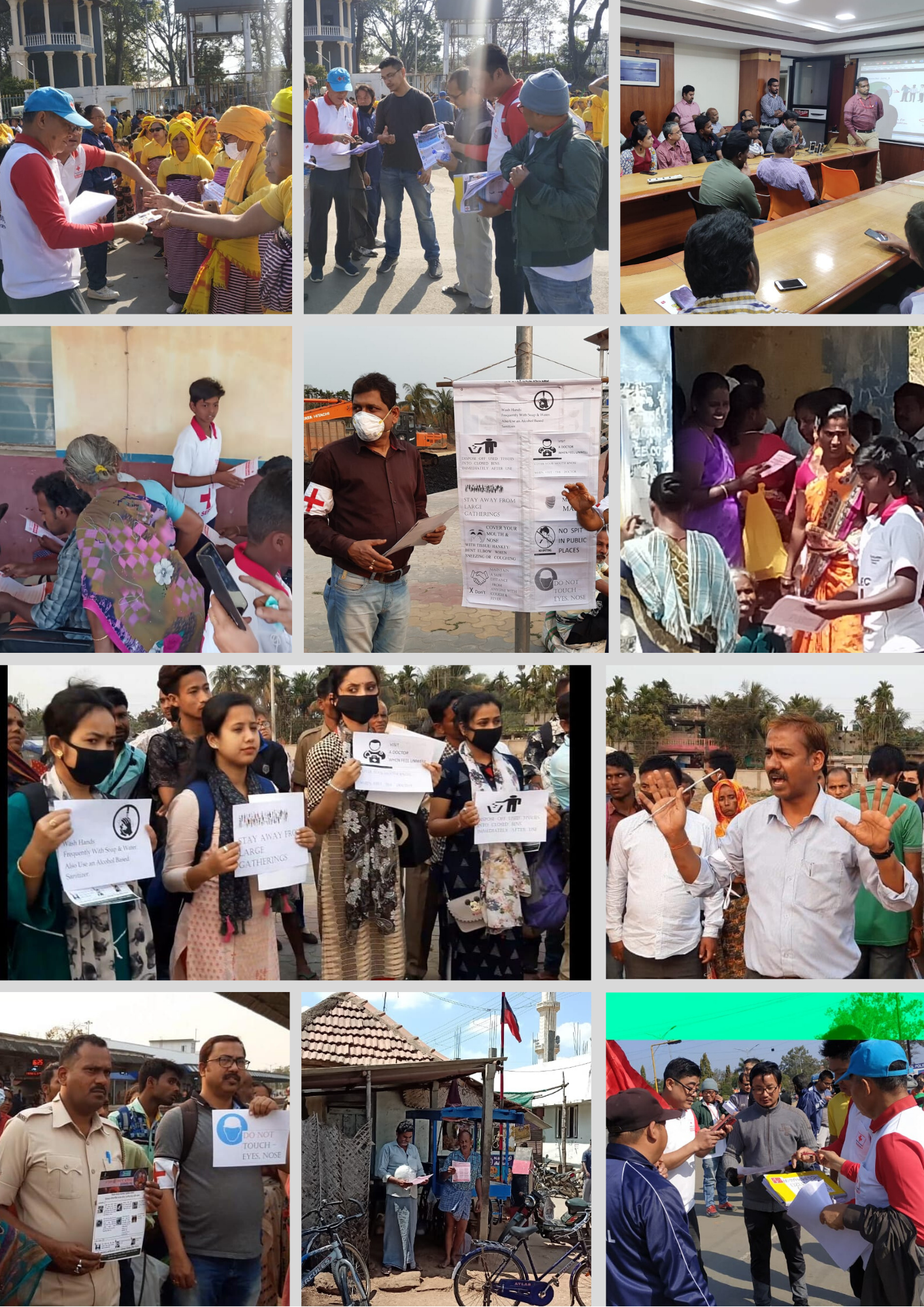 Indian Red Cross has scaled up preparedness to tackle the Coronavirus Pandemic by initiating a myriad of activities. In the initial phase of the outbreak, volunteers were trained, awareness & prevention programs were conducted to sensitize people & vulnerable communities.
Mass gatherings, that expose people to greater health risks during public health emergency situations were targeted. Volunteers reached vulnerable people at locations such as railway stations to educate them on prevention & spread of COVID2019.
In order to build trust and engage with communities so that 2 way conversations may be facilitated, IEC material in local languages was printed and distributed.  Queries were addresses, fears were allayed and rumours and misinformation was countered with facts. 
Post lockdown, volunteers are working in tandem with local governments, health departments and police personnel to ensure no one is left behind. Essential commodities such as food, dry ration, water, vegetables are being distributed among the needy especially migrant workers, homeless, the elderly and communities living in remote areas. The needy are being reached at highways, temporary shelters, slums and rural areas. Soaps, masks, sanitizers, blankets and other essential relief aid is being distributed. 
Volunteers are working in community kitchens, distributing essentials at the doorstep of the elderly and others in need. They are also supporting the state governments in strengthening the fight against COVID19 by enforcing social distancing in public places, conducting community surveillance to ensure people stay indoors and encouraging people to wash their hands regularly. 
Daily Reports from States/UTs Branches
Initiatives during COVID-19 as on 30 March, 2020
A large pool of trained volunteers of Indian Red Cross Society, with a network of more than 1100 branches, are undertaking following activities in close cooperation with the local government.
Awareness Campaign

Printing and distribution of IEC material on COVID-19 in local language.

Procurement and distribution of hygiene & personal safety materials like masks, soaps, sanitizers etc.

House to house visit to explain about the precautions to be taken for COVID-19

Distribution of food items to poor and needy.

Dry ration, vegetables and kitchen being run in many places in Punjab, Haryana and Rajasthan.

Red Cross volunteers in many states, especially in Uttrakhand and Haryana are helping to maintain social distancing at the shops where people come for essential items.
2.            Health Ministry has requested all State Governments to use the services of Red Cross volunteers for community surveillance.
3.            Coordinating the import of essential items, containing Personal Protective Equipment (PPEs), test kits, ventilators, thermal guns and masks from Jack Ma and Alibaba Foundation from China on behalf of and to be given to Ministry of Health & FW.
4.            Red Cross vehicles have been made available to the local administration.  Two ambulances in each district of Haryana have been given; Around 1800 vehicles of Mother & Child Care operated by Tamil Nadu Red Cross, on behalf of State Govt. are being used for transportation of patients. 
5.            Logistic support to an Isolation Centre in Gurugram; 20-bedded quarantine centre set up in Red Cross hospital, Silchar, Assam; food, hygiene, beds, medicines etc. provided in the additional Isolation centres set up in Gurugram and Ahmedabad.
6.            65 Cyclone shelters in Odisha run by Red Cross are now being converted into Isolation Centres.
7.            The Blood Bank in Delhi is run 24X7.  In view of the lockdown, pick-up and drop facility provided  by Red Cross to donors.
8.            More than 5000 family tents kept ready.
Name of State/UT
Number of Volunteers- COVID warriors
Contact Information of COVID Nodal Officers in States/UTs
Number of Districts
Activities
Current Focus

Assam

 

Mr. Diganta Bujarbaruah, Gen Secretary 9864159990

25

1. Awareness campaign and distribution of IEC material
2. house to house visit to educate COVID 19
3. Distribution of hygiene and personal safety material  like masks sanitizers etc
4. Helping in maintaining social distancing
5. Hospital ambulances placed at the disposal of District administration 
6. 6 quarantine centres are ready and 2 shall be readied, if needed in different districts.

 

 

 

 

 

 

 

 

 

 

1. Family link established with pilgrims of Assam, Golaghat who were stuck in Brindavan, UP.Total pilgrims- 32 
2. Link established between IRCS, Meghalaya and District administration, East Garo hills, Meghalaya for 10 no. of labourers in our shelter camp, Guwahati.
3. Shelter camp for COVID 19 arranged at Indian Red Cross Society,Regional Warehouse, Noonmati. 
4.Distribution of packed food and dry ration to poor & needy
5. Continuing activities in maintaining social distancing
6. Facilities being made available to district administration for setting up quarantine area
7. Home delivery service for medicine and other essential commodities for disables/aged and home quarantined people
8. Senior citizens and women headed households being given essential supplies. Volunteers demonstrating use of mask, hand wash and other self protection measures.

 

Andhra Pradesh
754
Mr. A K Parida,
IAS (Retd.) 7032319999
13

1. 2.5 lakh village and ward volunteers appointed by the State Government at the rate of one volunteer for 50 households have identified 29672 foreign returnees after house to house survey. 178 of them are admitted in hospitals and the remaining 29,672 are isolated and home quarantined.
2. Community Surveillance taken up through IEC activities educating the identified communities to contain the further spread of the corona virus.
3. IEC matetial being used to communicate with the public.
4. Awareness generation activities being conducted in public areas, traffic signals, etc. whereas social media being utilized to spread awareness.
5. Distributing Masks among the masses, especially among the officers and staff involved in Corona Duties.
6. Distributing food and water among volunteers and government staff on duty.
7.    Distributed Rice, vegetables and dry rations among old age homes and orphanages.

 

 

 

 

 

 

1. Red Cross Volunteers engaged in enforcing social distancing during lockdown period particularly in daily market areas.
2. Community kitchen started for distribution of food packets and water to the needy, esp. migrant labourers.
3. Providing support to the Shelter Homes started for the stranded migrant labourers  and other needy persons by the District Administration.
4. Red Cross Volunteers and Staff assisting the District Administration in containing the spread of Corona Virus in close coordination.
5. Working as part of and in association with the District Control Rooms and State Control Room established by the State Government.
6. APSB has launched a TOLL-FREE NUMBER to strengthen its spectrum of services- 1800- 425-1234. The Toll-Free number works 24x7 and anyone can access it. People who need help of any Governmental Department, Medical Help or would like to give information on Foreign Returned people or any other information can call this number. Red Cross also appeals to the philanthropists to come forward and contribute to strengthen the Red Cross mission at this critical junction. One can use the Toll-Free number to get any details/information one needs on Red Cross services.

 

Chattisgarh
 
Sh. Pranav Singh
8319132151
 
1. Volunteers are enforcing social distancing in PDS shops, medical shops & vegetable/fruit shops. 
2. Awareness generation activities are being carried out on prevention and spread of covid19. 
3. Migrant labour and the needy are being provided food and water. 
 
Goa
79
Shri Subhash T. Salkar
General Secretary
9823627220
2

"Red Cross Covid Support"group was formed for the awareness and to monitor the activities of the volunteers.

Essential food material was ordered from the dealers who had food stocks.

325 packets of essential food items were distributed among the needy families, migrant workers stranded in  industrial areas.

Hotels were requested to give lunch packs for the distribution to vulnerable.

5000 masks were stitched by self help groups.

Assistance was given to sick and senior citizens.

Volunteers are helping in putting grocery stores in order for smooth functioning. 
Essential commodities such as Vegetables/fruits, ration, medicines are being delivered at the doorstep of elderly people & others in need.
Migrant labourers, homeless and other needy are being provided food, ration, medicines, water, etc.

Getting essential items of food for the distribution.

Finding the communities/families in  distress.

Distribution of essential items.

 

 

 

 

 

 

 

 

 

 

 

 

 

 

 

 

 

 

 

 

 

 

 

 

 

 

 

 

Gujarat
 
Sh. Prakash Parmar
9428214294
 
1. Enforcing social distancing in public places
2. Thalassemic children being provided medicines & transportation for blood transfusion
 

Haryana

COVID - Update Haryana

 

 

6500

1. Sh. D.R. Sharma,
General Secretary,
Indian Red Cross Society,
Haryana State Branch.
Contact No. 9958331199


2. Sh. Sanjeev Dhiman,
State Training Officer,
Indian Red Cross Society,
Haryana State Branch.
Contact No. 8360410758 (whatsapp)
9464835437

 

 

 

22

1. Awareness campaigns are being conducted daily in the all districts of Haryana. Phamphlets are being distributed in the districts. All the persons are being motivated for hand sanitizing and social distancing and to stay at home for their safety by the volunteers of Red Cross, St. John, Youth Red Cross, Junior Red Cross, Master Trainers in First Aid, Lay Lecturers in First Aid & Home Nursing, Brigade Officers of St. John Ambulance and emplyees of Red Cross and St. John

2. Red Cross volunteers are educating public about Dos and Don't by visiting in their houses and also through social media. All Districts have also created whatsapp groups of the volunteers to aware the public.

3. Distributed 3,28,000 masks (2,25,000 by IRCS, Haryana and 1,03,000 through social workers) and 8000 sanitizers to the general public by the volunteers of Red Cross and St. John Ambulance

4. Isolation Centres:  Beds and other emergency materials have been procured at Bahadurgarh,  Medicines worth Rs.25 lacs have been,procured, Food will be served by the District Red
Cross Branches to the Isolation Centres on demand through volunteers

- Packed foods and dry rations have been distributed to 3,07,241 persons by the District Red Cross Branches in Haryana as per details given below:-
26-03-2020 = 11899
27-03-2020 = 36533
28-03-2020 = 84348
29-03-2020 = 174461
---------
TOTAL 3,07,241
---------

- Community kitchens are being run to prepare packed foods.


- All the Rain Basera being run by 13 District Red Cross Branches in Haryana have been converted into night shelters. Similarly other district
branches have also occupied community centres, working women hostels, dharamshalsa and shoools for night shelters. The details of persons
provided shelters in the districts of Haryana are as under:-
28-03-2020 = 607
29-03-2020 =1018
Total =1625

Jammu & Kahmir
659

Mr. Imran Muzaffar
Program Manager
IRCS J&K
9419024326/7006812131

Mr. Vinod Malhotra
Honorary Secretary
IRCS Jammu Regional Branch
9419104477

Mr. Mohammad Yousuf Zargar
Honorary Secretary
IRCS Kashmir Regional Branch
9419026440

20
i) Awareness campaign and distribution of IEC Material
ii) Distribution of Hygiene and personal safety materials like masks, sanitizers etc.
iii) Helping in making social distancing - PA announcements
iv) Logistic support to
Isolation/Quarantine Centre - Food,
water, beds, bedsheets, pillows
v) Assistance to authorities in
surveillance, support to health workers in hospitals in quarantine centres
vi) Distribution of blankets to stranded passengers at Railway Station
Distribution of packed food and dry ration to poor, needy and migrant labourers.
Jharkhand
 
 
 
Volunteers are going door to door to create awareness on prevention and spread of covid19.
Soaps are being distributed among the masses to encourage them to wash their hands regularly. Volunteers are also enforcing social distancing in public places.
The hospitals are providing service to the needy free of any charges. 
 
Karnataka
13150
Mr Shivashankar
Public Relations Officer
9902535661
30
1. Awareness campaigns & distribution of IEC material- 4,00,000 handouts
2. Door to door visits to educate on COVID19
3. Distribution of hygiene & PPE such as masks, sanitizers, etc.
4. Enforcing social distance in public places
5. Logistic support to isolation centres
6. Red Cross ambulances placed at the disposal of District Administration. 
1. At districts, shelter homes are being arranged in Kalyan mandaps, stadiums, BBMP Choultries for migrant labour, daily wagers.
2. Packed food, dry ration and water being distributed among the poor, needy & stranded people
3. Providing support to community kitchens being run.
Kerela
 
 
 
1. Supplying cooked food to more than 500 people in Trivandrum.
2. Also supplying raw food material to several families struggling in accordance with request made by counselors of Trivandrum. 
3. Community kitchens are being run and food is being supplied to the needy across other districts as well.
4. Volunteers are conducting surveillance of all vehicles 24/7.
 
Madhya Pradesh
 
 
 
1. Distributing dry ration/groceries to the needy. 
 
Maharashtra
300

T B SAKLOTH
GEN SEC IRCS MAH STATE
9920427699

35
Awareness campaign and distribution of IEC material
House to House visits to educate on COVID-19
Distribution of Hygiene and personal safety materials like masks, sanitizers etc
Helping in maintaining social distancing
Red Cross Ambulances placed at disposal of District Administration
Distribution of packed food and dry ration to poor, needy and migrant labourers
Odisha
1111

Sh. Ranjan Mahanty
8908594545
Sh. Ajay Tripathy
9438323244
Sh. Laxman Swain
6371822801

 

 

 

 

 

30 (THIRTY) DISTRICT, 01 Regional Branch and
01 City Branch
1. Awareness and demonstration on Hand Wash.
2.Distribution of leaflets on Handwashing and on do's and don'ts.
3. Posting of IEC banners  in prominent places , schools and colleges enterance.
4. Support to the care takers and service providers by way of supplying drinking water, Banana, Mask distribution.

Assistance to senior citizens, migrants and in blood donation

1.  Prominent places of district including some interior pockets of the state ,especially involving  Youth & Junior RC Counsellors and SERV Volunteers
2. 40 Prominent squares of the Capital city ,Bhubaneswar.
3. 65 Cyclone shelters

 

 

 

Punjab
900
 
 
Distributing food and dry ration.
MDR TB patients being provided ration by volunteers through personal contribution

 

Sikkim
 
Dr R.N Deokota
9735007190
 
 
 
Tamil Nadu
3600

Contact Mr Karnan at 9841760454

Dr.Harish L Metha, Chairman, 9444440428 & Thiru M.S.M. Nasruddin, General Secretary -9444400555

26

Awareness campaign and distribution of IEC material
Help Desk to educate on COVID-19
Distribution of Hygiene and personal safety materials like masks, sanitizers etc.
Helping in maintaining social distancing.
Distribution of packed food and dry ration to poor, needy and migrant labourers.

 
Telangana
 
Sh. K Madan Mohan Rao,
General Secretary
9490412381
Sh. Vijaykumar Babu
9849555393
 
1. Food items, dry ration and other essential items being distributed among the needy.
 
Tripura
175
 
8
1. Food items, dry ration and other essential items being distributed among the needy.
 
Uttar Pradesh
 
 
 
1. Awareness generation activities being conducted on prevention & spread of covid19 in remote rural areas by doctors and volunteers.
2. Communities are being educated on proper hand washing technique and encouraged to practice social distancing.

3. Masks being distributed among those stepping out for essential work. Social distancing being enforced outside, pharmacies, kirana stores, etc.  
4. Volunteers are facilitating delivery of essential commodities at the doorstep of senior citizens, women-headed households and anyone else in need.

 
Uttarakhand
300
Neeru Bhatt Petwal Mob. No. 7330861055
13
1. Awareness programme and distribution of IEC material has been done in all over state.
2. House to House visit to educate on COVID 19 specially in slum areas.
3.Mask, Sanitizer,Soaps, bleaching powder and gloves has been distributed.
4.Circles has been drawn by the volunteers at outside of the shops of daily need for social distancing.
1. Distribution of dried ration to the poor, needy and migrant labourers. Around 200 packets already distributed
2. Given family tent to Dehradun administration department in case for temporary shelter.
3. Letter given to the DG Health for making isolation Centre in MCH Hospitals of Naagthat 30 beds and Chamma 25 beds.
West Bengal
 
Sh. Syed Nasiruddin, General Secretary
9830087998
 
 
 
For any queries, partnership, donation, opportunity to volunteer, blood needs & blood donation etc relating to the states kindly get in touch with the nodal officers of the states in the above table. For national level partnership, voluntary  donation and technical clarification one may write to  Mr N K Singh, Deputy Secretary, Indian Red Cross Society, National Headquarters, New Delhi  on email : nksingh@indianredcross.org or call 9818695865
A picture is worth a thousand words. Don't agree? See for yourself ❤️❤️❤️❤️❤️
| | | |
| --- | --- | --- |
| https://vimeo.com/401334350 | | |
|   |   |   |
| Haryana Red Cross: Community Sensitization | Odisha Red Cross: IRCS OSB shelters are started  to be converted as isolation center's at panchayat level. Till now three are converted | Kerala Red Cross: Kerala state Redcross supplying towels to  government hospital through district collector. Also, supplying one lakh  3 layered masks to government health minister |
| | | |
| Gujarat Red Cross- Food Packets | Telangana Red Cross- Medical Shops | Tamil Nadu Red Cross- Food Distribution |
| | | |
| Kerala Redcross Trivandrum capital we have started supplying cooked food more than 500 peoples getting benefit from Redcross Trivandrum - 30.03.2020 | Kerala Redcross supplied some raw food material to the most struggling families as per the request from counselors of Trivandrum and the situation in their families so worsen . | Uttarakhand District Red Cross- Social Distancing |
| Providing dry ration to the needy in Assam | Redcross volunteers detecting temperature using thermal scanners | Social distance being enforced in Telangana |